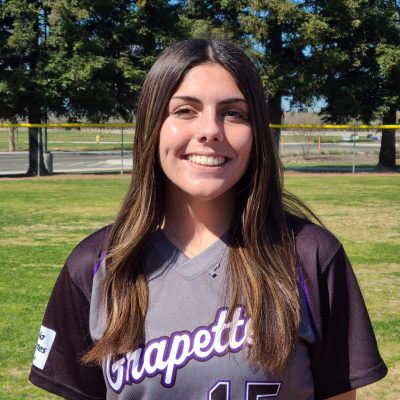 Academic Interests information goes here.
I am Peyton Faias, I'm currently in 10th grade at Manteca High School. My dream is to play college softball while I perusing a degree in the law field.
I fell in love with softball and started playing a little later then many of my teammates. I honestly never touched a softball or walked onto a field until I was almost 12 years old.
I was first introduced to softball by family and friends. I started off joining a girls rec-ball league and broke my nose within the first few months of practicing. During my recovery time I quickly realized that I loved the sport and wanted to play and learn as much as I could. I then searched out travel teams in my area and immediately joined, treasuring the thought of being able to play nearly year round in our area. In the last few years I have played for some great organizations and I am very thankful for all my past coaches, teammates and the experiences that have helped mold me into the player & teammate I am today. As I continue to learn & grow I am grateful to have joined the Grapettes 18U Team. The Grapettes is more than just an organization to me. My Grapettes Coaches are amazing and push us to be our very best, never giving up on our teammates or ourselves. I have to say my coaches and teammates are awesome! I am lucky to call them my friends but truly blessed to say they are family.
Over the years, I've been able to maintain exceptional grades in school while playing travel ball and being a two sport athlete in high school as well.
While going through many ups and downs throughout the years, I continue to cherish my time on the field more and more everyday. I'm proud of how much I've learned throughout this time and I cannot wait to see what the future holds for me as I continue to push myself harder and harder on and off the field.
Awards / Honors / Activities
List awards, honors, and activities here.